Oral Rehydration Solution Recipe
Oral fluid rehydration is critically important during acute episodes of vomiting and diarrhea experienced with Gastroenteritis from food and water poisoning.
Fluid loss must be replaced after every episode of vomiting, or stool loss to maintain blood volume and subsequently, blood pressure.
Hypovolemic shock occurs when excessive fluid volume is lost! Shock is a critical condition, so you want to avoid shock by keeping anyone losing large volumes hydrated!
"Which medicine has saved more lives than any other and can be made by anyone in their kitchen, back bedroom, shantytown hut or dwelling built of sticks – as long as they have access to clean water?
The answer is:  six teaspoons of sugar, half a teaspoon of salt and one litre of water.  Mix.  Drink……It requires no specialized equipment; uses ingredients that are ubiquitous and have a long shelf life; has few side effects; and can be made up in any quantity – the prefect medicine."
-Jeremy Laurance, British Journalist
Oral rehydration fluid, called ORS for short, is easy to make, has readily available ingredients and is all one needs to rehydrate during acute episodes of vomiting and diarrhea.
Fed in small amounts, 30ml every hour, about two tablespoons is enough fluid to keep a infant or small child hydrated.
2 tablespoons ORS/hour
Encourage breast feeding on demand, for infants and salted broth soups, congee or young coconut water for adults and older children.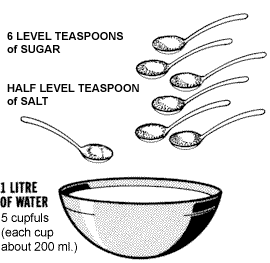 How to preparing One (1) Litre Oral Rehydration Solution [ORS] using Salt, Sugar and Water at Home
Place 6 level teaspoons of sugar and
a half level teaspoon of salt
into one litre of clean drinking water (or boiled water and then cooled)
- 1 litre = 5 cupfuls (each cup about 200 ml.)
Feed with a spoon frequently
Be very careful to mix the correct amounts, as too much sugar can make the diarrhea worse, and too much salt can be extremely harmful to the child.
If the mixture is made a little too diluted no harm can be done and there is very little loss of effectiveness. Encourage the child to drink small amounts
A child under the age of two needs at least a quarter to a half of a large cup of the ORS drink after each watery stool given slowly with a spoon while a child aged two or older needs at least a half to a whole large cup of the ORS drink after each watery stool.
Diarrhea usually stops in three or four days. The real danger is the loss of liquid and nutrients from the child's body, which can cause dehydration and malnutrition.